Although it has been gaining a lot of notice lately, Delta-8 THC is a cannabinoid that has been around for years. Under the presidency of Donald J. Trump, the Farm Bill, also known as the Agriculture Improvement Act of 2018, was signed into law. This legalized the sale of recreational cannabis products in some states, as long as they fall within specific guidelines. This includes Delta-8 THC products. Today, Delta 8 THC products are flourishing in the market and everyone wants to know what they are all about. From how Delta-8 THC compares to other cannabinoids to how much THC is in Delta-8 products and where these products are sold– there is a lot about Delta-8 THC to learn before giving it a try. In this article, we are dishing out the details on Delta-8 THC to help you decide if it is the next cannabinoid you should try. 
Table of contents:
Key Takeaways
So, what should you know about Delta-8 THC? Let's start with understanding cannabis. There are hundreds of cannabinoids produced in the cannabis plant. You may have heard the word "cannabinoid" before, but what is that really? A cannabinoid is defined as any compound connected to cannabinol (CBD) or any of the active components of cannabis. Another way to explain is that cannabis plants are filled with compounds that each have different structures and properties, called cannabinoids. Delta-8 THC is a popular cannabinoid, along with another major cannabinoid, Delta 9 THC.
The small amounts of delta-8 THC in cannabis make it a minor component of cannabis. Despite the miniscule amount of Delta-8 THC produced naturally in cannabis, Delta-8 THC can also be synthesized. Hemp plants are abundantly rich in CBD, which is known for its unique properties. Many of the Delta-8 THC products you will find today are made by converting CBD.
You might find both Delta-8 THC and CBD products at your local hemp shop. Let's talk about how these two cannabinoids differ from one another. The first big difference between these two is their presence in difference CBD is found in abundant amounts in cannabis, or hemp, while Delta-8 THC is found in trace amounts. CBD is considered a major cannabinoid while Delta-8 THC is a minor cannabinoid that can also be produced synthetically.
Another difference to keep an eye out for when shopping for either of these products is that sometimes Delta-8 THC products contain CBD. Some Delta-8 THC tinctures or gummies, for example, may combine a blend of Delta-8 and CBD to balance the cannabinoids.
Now that you know how Delta-8 THC differs from CBD, let's briefly review how Delta-8 THC compares to Delta-9 THC.
Delta-8 THC has some unique properties that really help set it apart from other cannabinoids. Most people compare Delta-8 to Delta-9, due to their similar names. Delta-9 THC is the main active chemical in cannabis and it is found in large amounts. Delta-9 THC is known for its infamous legal status and regulations in some states. You can think of Delta-8 THC as a distant relative of Delta-9 THC that is a little more well-behaved.
Delta-8 THC shares a similar structure with Delta-9. The chemical structure of Delta-8 differs by one molecule. So in a lot of ways, Delta-8 THC is just like Delta-9.
If you are trying to decide which of these is best for you, it ultimately depends on your personal preferences. CBD and Delta-9 THC are at opposite ends of the cannabis spectrum as it pertains to effects.
How Much Delta-8-THC is in Delta 8 Products?
Delta-8 THC is a naturally occurring cannabinoid produced in the cannabis plant. Delta-8 THC can be found in trace amounts in cannabis. With there being so many Delta-8 THC products appearing on the shelves of your favorite hemp shops, you might be wondering how much Delta-8 THC is actually in these products. Legally sold Delta-8 THC products will contain no more than 0.3% THC, but the amount of Delta-8 THC included will vary from product to product. Each Delta-8 THC product will contain a specific amount of Delta-8 THC, which is measured in milligrams. The amount of Delta-8 THC a product contains is typically disclosed on the website for the product and on the packaging for the product as well. It is advised to retrieve the Certification of Analysis (COA) for a Delta-8 THC product before giving it a try. This is a professional document that proves that your Delta-8 THC products were lab tested by a third party independent lab. A COA typically shows what ingredients are included in the product and at what percentages. COAs can typically be found on the website for the product.
What are the Various Forms of Delta 8 Products?
There are numerous ways to buy Delta-8 THC. This minor cannabinoid can be found in most places that sell CBD products and there are many different types of ways to use it. Let's review some of the most common Delta-8 THC products you may find:
Delta 8 Flower
Delta-8 flower is dried hemp flower coated with Delta 8 THC flower. You can buy Delta 8 flower online at ATLRx.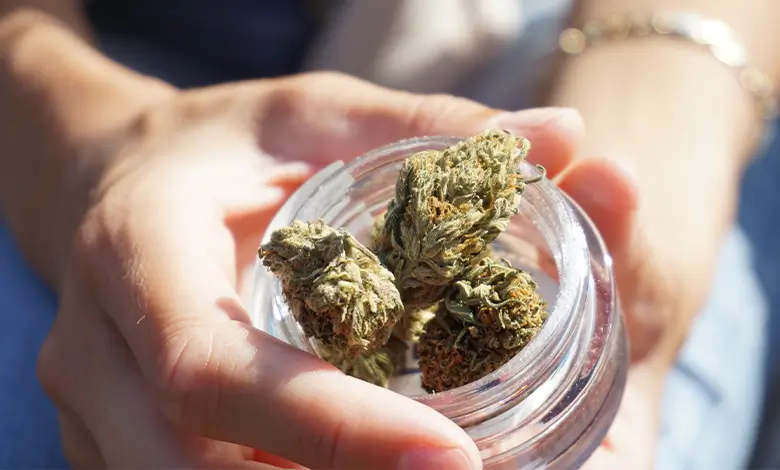 Delta 8 Gummies
Delta-8 gummies are another popular Delta-8 THC product. Gummies are often made with gelatin that is infused with Delta-8 THC. Delta 8 gummies are pre-measured and honed in. For the best Delta 8 gummies, visit ATLRx.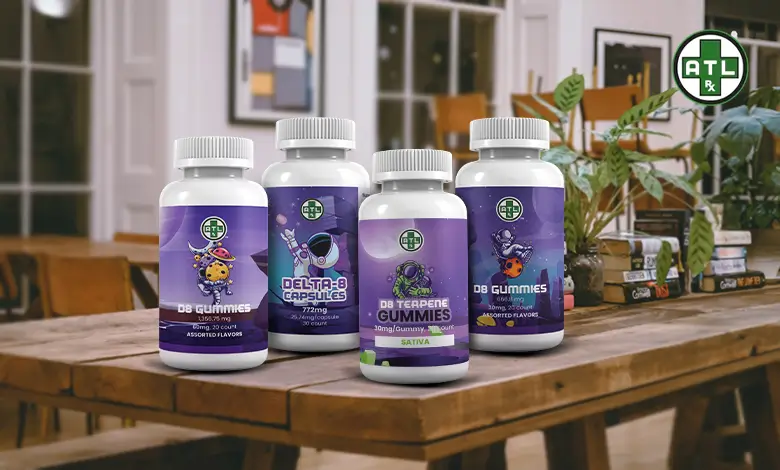 Delta 8 Vapes
Vaping is another potential way to purchase Delta-8 THC. There are different types of vapes out there depending on your preference.
Delta 8 Capsules
Delta-8 THC is even available in soft gels. Delta 8 THC capsules are another alternative that may appeal to some people.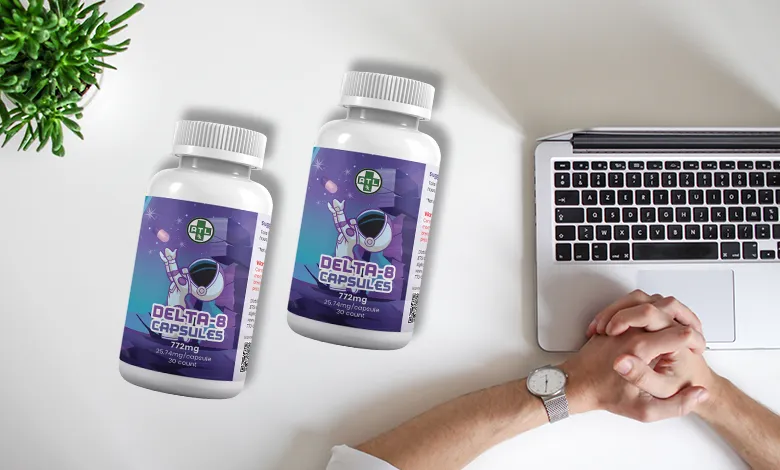 Delta 8 Tinctures
Tinctures are concentrated liquid herbal extracts made by soaking herbs in alcohol and combining that mixture with a carrier oil. So in other words, Delta 8 THC tinctures are basically a liquified form of Delta-8 THC. Tinctures are sold in small bottles with dropper tops.
Delta 8 Concentrates
Delta 8 concentrates Concentrates are typically available in a variety of textures, but they are essentially concentrated forms of Delta-8 THC that usually don't contain any other ingredients.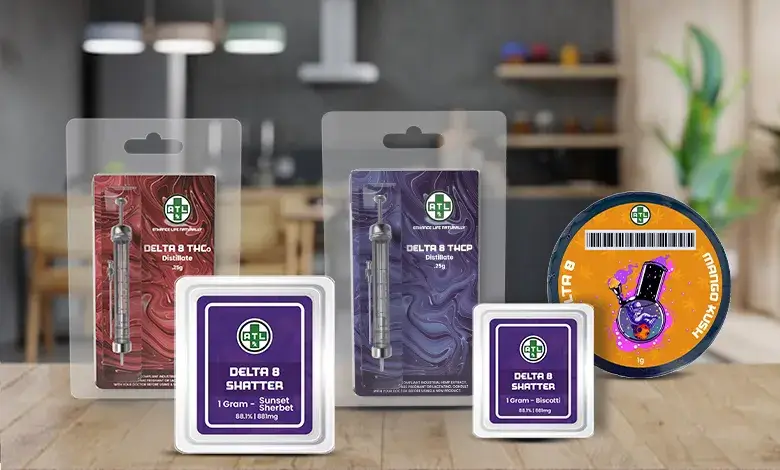 Where to Find Legal Delta 8 THC Products
Delta-8 THC is a little different than Delta-9 when it comes to its legal status. As we know, Delta-8 THC products contain significantly less THC than Delta-9 products. In 2018, cannabis products containing less than 0.3% THC were legalized. This means Delta-8 THC can be found in some states. Delta-8 THC is not legal across the US though.
Delta-8 THC can be purchased legally in the following states and district:
Maryland
Minnesota
Washington D.C
If the state you reside in is not listed here, then Delta-8 THC may have been banned where you live. Double check with your local state laws for the details on Delta-8 THC products where you live. Where Delta-8 THC products are legal for use, these products can mostly be found in local cannabis shops and online. Some cities have cannabis shops, or dispensaries, that offer a variety of cannabis products, including Delta-8 THC. These shops may be local to you or in a nearby city. Delta-8 THC products can also be purchased online. There are a few online hemp shops offering Delta-8 THC products, but it's important to make sure you are buying from a reputable seller. ATLRx is a trusted source for Delta-8 THC products. ATLRx is known for top shelf CBD products and their Delta-8 THC collection of products is filled with different products to suit many preferences. ATLRx offers top tier Delta-8 flower, tinctures and concentrates. They also offer their Delta-8 gummies in assorted flavors, which were deemed among the best of 2022. All of these Delta-8 products are professionally made, lab tested and available on the ATLRx website. Enjoy Delta-8 THC today, without leaving your home, by visiting ATLRx online!
Related Articles: