Cannabis is a versatile plant. While it offers a number of different chemical compounds, the most popular delta-9 THC still remains in the number one spot.
Due to its effects, cannabis has long received much attention both in the medical sector and the cannabis community. While hemp contains larger concentrations of CBD, delta 9 exists in marijuana plants, the dominant cannabinoid. These differences, however, are few and far between. Both delta 9 THC and CBD are not only the most abundantly found cannabinoids in cannabis, but they also are the most well-researched and commonly sought out. As such, the cannabis market is flooded with a number of different CBD and delta 9 THC products, offering something for everybody. However, delta-9 THC still reigns supreme.
Of all of the cannabis products, it seems that delta-9 gummies are one of the most sought. Delta 9 THC gummies come in various shapes, colors, and milligrams. But, as popular as these cannabis-infused products may be, many still have questions. One of the most important ones is, "can you buy delta 9 gummies without a prescription?".
You'll find everything you need to know in this article if this is a burning question for you.
Table of Contents:
What Are Delta-9 THC Gummies?
Essentially, delta 9 THC gummies are products that have been infused with cannabis flowers. Although they contain other chemical compounds, the most active ingredient is delta-9-tetrahydrocannabinol (delta-9-THC). While gummies have been trending a ton lately, it is important to understand what delta 9 THC is.
Delta-9-tetrahydrocannabinol, or delta-9-THC, is the scientific name for delta-9. Whatever you choose to call it, as we said, it's one of many cannabinoids found in cannabis, mainly marijuana plants.
Gummies infused with delta-9 THC are a form of cannabis-infused with THC extracts. Though they appear similar to other gummies and supplements, they differ since delta 9 THC is a cannabinoid.
Each gummy is evenly distributed with concentrated infused delta 9 THC extract and other ingredients for color etc. Cannabis is a unique experience, but at the very least, a gummy typically has between 10 to 40 milligrams or more of delta-9 THC.
Are Delta-9 THC Gummies Legal?
Because of a loophole in the 2018 Farm Bill, which legalized industrial hemp to be manufactured, sold, and consumed in the United States, it didn't explicitly exclude any other specific cannabinoids besides the ever-popular Delta 9 THC. However, some states have retracted their ban. Where it is legal, delta 9 gummies may be purchased and also allowed to be sold in some dispensaries, stores, and markets throughout America on par with cannabidiol. Although certain states have begun crackdowns on the delta 9 industry, the cannabinoid still has a great degree of success. So, in a nutshell, you can buy delta 9 THC only in states where it's legal. Be that as it may, many buyers — especially medical patients — wonder if purchasing delta 9 gummies requires a prescription.
The simple answer is no, but we will discuss that later.
Are Delta-9 THC Gummies Stronger Than CBD Gummies?
But first, what's CBD? CBD or also known as Cannabidiol, is a newly popular cannabinoid found mainly in the hemp plant. Despite the existence of over 113 identifiable cannabinoids in the quite complex cannabis plant, cannabidiol (CBD) is the single cannabinoid that's become a national sensation besides its more famous cousin, THC. As it's a decently plentiful component of the industrial hemp plant that became federally decriminalized in the federal 2018 Farm Bill, CBD is cultivated and utilized in states across the United States that are still a number of years away from adult-use cannabis legalization.
With this further reaching route of accessibility for customers in almost every American state, CBD products are sold in almost every corner and community of the country. From licensed dispensaries in the recreationally legal states to local farmers' markets in rural Georgia to even being able to buy CBD products online in certain states.
Since there's no high related to CBD, consumers won't have to worry about the heaviness and intoxication that comes with THC. CBD is chemically different from any of the THC cannabinoids. Yet, the most common misconception of CBD-rich products is that it's also similar to weed or THC. But this is far from the truth. While they both are found in cannabis, unlike any of the tetrahydrocannabinol cannabinoids, CBD has no psychoactive qualities naturally by itself — also, CBD contains 0.3% THC levels and has been made legal at the federal level in most states. This is not the case for delta-9 THC.
As long as the THC present in the product falls under the mandated amount of 0.3%, there shouldn't be any "high" produced, and therefore, CBD has received the joking name of "cannabis light" or "diet cannabis." Therefore, CBD could be an ideal product for newbies to cannabis and those who are skeptical or cautious about hemp-derived products.
CBD has an affinity for binding both CB1 and CB2 receptors. CB1 receptors are mainly found in our central nervous system, and CB2 receptors are abundantly found in our immune system. Like THC, the cannabinoid interacts with our endocannabinoid system in a very unique way.
So much so that CBD has been designed as a highly-concentrated treatment, called Epidiolex, to help children manage epileptic conditions such as Lennox-Gastaut syndrome and Dravet Syndrome. This drug was sanctioned by the United States Food and Drug Administration (FDA) and has seemed to be pretty promising from their scientific findings.
Now when it comes to delta-9 THC-infused gummies compared to CBD-infused gummies, there are some differences. Additionally, delta-9 gummies have the potential to cause a positive drug test. With CBD gummies, though, there's a small likelihood of failing a drug test, but still a chance in the case of full spectrum. In terms of which gummy is stronger, it's hands down delta 9 THC.
Do You Need A Prescription To Buy Delta-9 THC?
No. Where it is legal for purchase, delta 9 THC may be purchased offline or online without the need for a prescription in the U.S. This means that if you're looking to purchase delta 9 THC, no matter what form it's in, it's completely unnecessary to make an appointment with your doctor to receive a prescription. While these kinds of gummies contain cannabinoids, delta 9 THC isn't considered a controlled substance, therefore, is not medical marijuana.
Because of the confusing legality and the new 2018 Farm Bill, as we said, in states where it's legal, delta 9 THC is freely available online and offline, like other products containing cannabinoids — however, it is essential to be wary of unscrupulous sellers on the internet.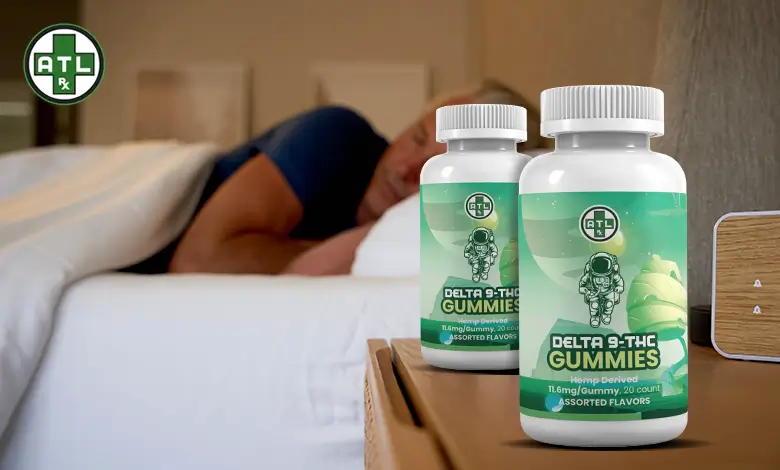 What To Look For In A Delta-9 THC Brand
When purchasing delta 9 Gummies, there are a lot of aspects to consider to ensure a good cannabis experience and avoid any harm. To help you find the best delta 9 THC gummy online, here is some vital information to keep in mind, in no particular order.
Lab tests:
The most important thing to consider is looking over the ingredients and third-party laboratory tests of your delta 9 gummy product for what's inside and its potency.
Hemp Source:
What many may not know so that many companies use imported hemp sourced from outside of the U.S.. This is a big red flag and casts a lack of credibility on their products. Furthermore, the conditions of hemp imported from outside of the U.S. were unknown, which means the product could contain harmful contaminants. Again, check the lab tests to avoid ingesting anything harmful.
Reputation:
To gain an honest opinion of a company, it wouldn't hurt to read reviews from the opinions of actual customers who have purchased the company's delta-9 THC gummies. Like any product, this is a great product to gauge the overall satisfaction of a brand — if customers are happy with the brand's products, it's typically a good sign that they're doing something right.
Here at ATLRx, we offer a great selection of edibles in many different forms so you can have not only a pleasant cannabis experience but also a safe one. The best part? Our delta-9 THC gummies don't require a prescription. Until more research is conducted, delta 9 or any product infused with the cannabinoid isn't designed for treating any health conditions. Therefore, making a delta 9 gummies purchase wouldn't constitute a prescription.
Conclusion
While we've provided some information on delta 9 gummies, having a conversation with an experienced healthcare provider when treating severe health conditions is recommended, always. So, before purchasing delta-9  THC gummies, be sure to ask your doctor, do your research, and consume safely and responsibly.